Tire Rotation Service in Big Rapids, MI
Getting your car serviced for a routine procedure like a tire rotation is a simple process when you bring it over to Betten Baker Chevrolet Buick GMC. A commonly overlooked procedure, getting your vehicle's rubbers rotated is essential to maintaining proper traction on the roadway for years to come. Our knowledgeable mechanics are meticulous in their craft and will get you in and out in no time! All you have to do is schedule an appointment on our website or give us a call!
There are quite a few benefits to rotating your tires every six months or so. To begin, you can count on your vehicle to provide a steady drive that grips the pavement with ease during inclement road conditions. Also, switching your tires around can help prevent you from having to purchase new ones at different times. It's much more economical to buy a whole set of four at one time than to purchase each one separately throughout the year. This will allow you to take advantage of four tire deals! It is best to check your Owner's Manual to gauge the correct period of time to pay us a visit, however, our mechanics just require a quick look to tell you if they're ready.
When you bring your vehicle for a tire rotation, our mechanics will get right to work switching your rubbers around. They start by moving the front pair to the back and adjusting them to their proper alignment. This is done since the front tires tend to wear faster than the rear due to turns, potholes, and braking. While we do this simple procedure, we can also replace your oil and wiper blades, as these maintenances tend to fall in the same range of time as a tire rotation. This way you can keep your visits to a minimum!
We offer our customers convenient online tools to make things as easy as possible. We have an expansive Parts Department filled with all of the premier tire options you could possibly want. Feel free to get in touch with our technicians 24/7 through the use of our Ask a Tech form. All you have to do is provide us with your questions, along with some info about your vehicle, and one of our mechanics will work toward giving you a detailed answer as soon as possible.
Are you ready to complete your tire rotation service in Big Rapids, MI? Drive down to Betten Baker Chevrolet Buick GMC as soon as today! We have flexible hours to fit you in whenever it suits you best.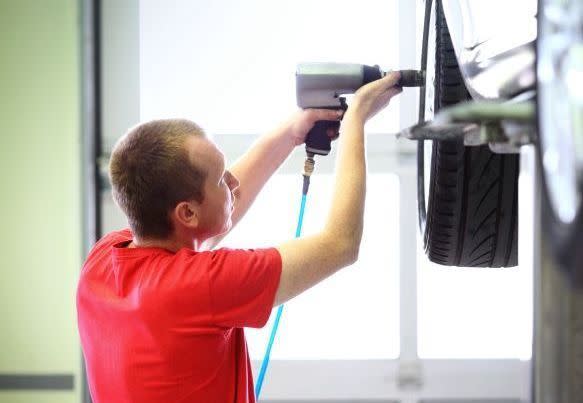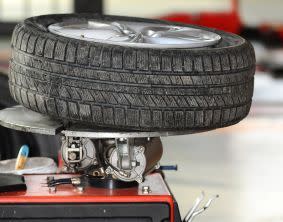 Service Hours
231-796-7681
| | |
| --- | --- |
| Monday | 7:30 am - 5:30 pm |
| Tuesday | 7:30 am - 5:30 pm |
| Wednesday | 7:30 am - 5:30 pm |
| Thursday | 7:30 am - 5:30 pm |
| Friday | 7:30 am - 5:30 pm |
| Saturday | 8:00 am - 12:00 pm |
| Sunday | Closed |
Testimonials
Very Satisfied
August 15, 2017
Great Dealership
July 5, 2017
Excellent Sales Staff
August 22, 2017
Fixed Right the First Time
June 2, 2016
Very Accommodating
September 21, 2016
Very Good Service
March 22, 2017
Customer Service on Top
June 26, 2017
Excellent Service
May 19, 2017
Loved the Service
June 28, 2017
I appreciated the help in finding the...
BIG RAPIDS, MI
March 8, 2017
Staff is always pleasant, a D helpful.
HOWARD CITY, MI
February 10, 2017
Gary Trimarco, took great care to detail...
LAKE ISABELLA, MI
February 3, 2017
Austin was very helpful and I...
BIG RAPIDS, MI
February 2, 2017
Great Courteous Service
STANWOOD, MI
January 22, 2017
I WAS HAPPY WITH THE WORK YOU DID.
REED CITY, MI
January 21, 2017
Read More